Nigeria born England international Bukayo Saka is not just a player but one who recognizes team work and does everything within his powers to ensure that team spirit is lifted no matter the odds.
The Arsenal ace and former England junior international who was eligible to play for Nigeria before he eventually settled for England is not only a jolly good fellow on the pitch but off the pitch as well.
That was the view of England teammate Luke Shaw, who described him as a unique person.
Shaw has revealed his close relationship with Bukayo describing the Arsenal man as unwittingly funny and an "unbelievable" footballer.
Saka entered the ongoing Euro 2020 tournament as somewhat of a surprise pick in Gareth Southgate's squad, with many having anticipated James Ward-Prowse or Jesse Lingard to be selected in his place.
There were suggestions at the time that he would be a peripheral figure but that has not been the case, with Saka starting England's last two matches and winning the Star of the Match award for his performance against the Czech Republic.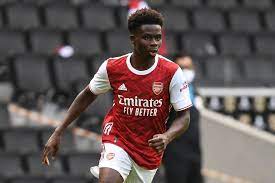 According to Shaw, though, Saka has not only had an impact on the pitch. His loveable personality and natural sense of humour has helped to lift spirits off the pitch, too. He's unanimously popular in the England dressing room.
"I love him," Shaw said on England's Lions' Den show. "I'd love it if he was my child or something; honestly I love him like that. I feel like you could ask anyone in the squad and everyone would say what a good guy he is.
"Obviously I didn't know him before I came to the camp and I didn't know what he would be like but, honestly, I've got on so well with him.
"Like I said, I'd love him to be my brother. He's just so cool, so funny, he makes everyone laugh – and he doesn't mean it.
read alsoEngland manager lauds 'super performance' of Arsenal star Saka
"He's not a loud person but it's just the way he is, the way he speaks, he's just so funny. I think someone like that in the camp is good to have as he gets everyone laughing and we just all love him and appreciate the way he is."
On Saka's footballing talents and performances so far, Shaw added: "He's unbelievable, and he's still only 19 – that's the scary thing.
"He just takes everything in his stride, he isn't fazed by anything, and of course he's been brilliant so far [at the Euros], so hopefully he keeps it up and keeps impressing everyone."
England face Ukraine in the quarter-finals of the Euros on Saturday night.
Saka might as well be living to his name. His name "Bukayo" originates in southern Nigeria, meaning "adds to happiness.
In an interview, Saka stated the importance of his father in his footballing career, "He's a massive inspiration for me. From when I was young, he always kept me grounded, kept me humble."