It was an atmosphere of competitiveness as Sports Initiative For Differently Abled (SIDA) staged its third edition of games for Athletes With Intellectual Disabilities.
The event which was held at the pitch side of the Main Bowl of the Teslim Balogun Stadium Lagos, had in attendance parents of children with Intellectual disabilities, patrons, representatives from the office of the first Lady of Lagos State, Mrs. Ibijoke Sanwo-Olu, and well-wishers.
The special athletes, who were engaged in Cycling, Athletics, and Long jump, were also for the first time, introduced to telematch games.
Sodiq Tairu, emerged champion in the Cycling event beating defending champion Athony Kupe, who placed second. Winners also emerge in sports such as athletics and telematch games.
President, Initiative For Differently Abled (SIDA) Prince Segun Joseph, said parents should endeavor to bring their kids for training that can expose them to greater opportunities through sporting activities instead of locking them up at home.
"We are looking at engaging as many kids as we can, among them are Olympic and world champions if nurtured in an enabling environment.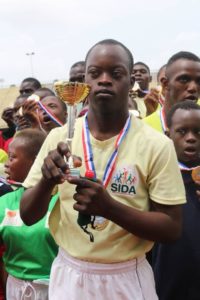 "In the next few weeks we are starting a camp once these children are on holidays so they can be groomed and introduced to more sporting activities. I wish to ask that parents bring their kids with intellectual disabilities to SIDA as they are not expected to pay any fee for their child's enrollment.
Representative of the office of the First Lady of Lagos state Mrs. Ibijoke Sanwo-Olu, Mrs. Aderonke Adele, applauded the organizers of the event as she reiterated the continued support of the first Lady of Lagos State for kids with intellectual disabilities.
read also 2020 Tokyo Olympics: Talented Agbo catches Brown's fancy
"I must commend SIDA for giving hope to these children, a larger part of the society has forgotten they existed but what Sports Initiative For Differently Abled (SIDA) is doing will bring them back to our consciousness. The organizers sincerely deserve every support they can get from members of the public and other benevolent individuals.